HumanKind is excited to feature the art of the California Central Coast Pastel Society and the music of Sol Nectar at Art After Dark on July 5 from 6-9PM. Stop by to meet the artists, KC Caldwell and Sue Dunker, view thier art, and stay awhile to listen to the music of local band Sol Nectar. The art will be on exhibit at HumanKind for the month of July.
The California Central Coast Pastel Society (3CPS) works to "bring soft pastel to the forefront as a fine art medium." The group supports and encourages each other during monthly meetings, and they educate the community about their medium. Two members of 3CPS will be showing work at HumanKind during July.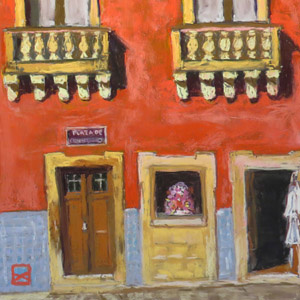 Susan Dunker
Susan Dunker was born and raised in the wheat country of Eastern Washington.  She attended Washington State University in Pullman, got married and graduated at UCLA with a B.A. in Art History.   She retired approximately 20 years ago from her job as an illustrator for the Technical Information Division at the Naval Air Warfare Center, China Lake, CA
The three great influences on Sue's artwork were the tutelage and support of Mary Miears Cutsinger, the mentorship she developed with William Herring of Clint, Texas, and the Fauvist movement.  
Sue's ongoing fascination is with the brilliant colors available through the use of soft pastels.  When painting, Sue likes to enhance, or even abandon, the natural colors of her subjects and add emotional content with bright, intense colors.
A few years ago, Sue was juried into the New Fauves, a group of like-minded painters dedicated to the style, aesthetics and approach of the great French fauve painters. 
Currently, Sue lives and works in Los Osos.  She takes 2-3 trips a year, past trips include Machu Picchu, China, Italy, Malta, Tanzania, Morocco, and Mexico most frequently.  Her art has been displayed in juried shows in San Luis Obispo, Scottsdale, Seattle, San Bernardino Art Museum, New Orleans, New York City, and New Mexico.  She had a group show on Canyon Road in Santa Fe, New Mexico, and her painting "Fire on the Mountain" was selected in the prestigious Top 100 Arts for the Parks exhibit in Jackson, Wyoming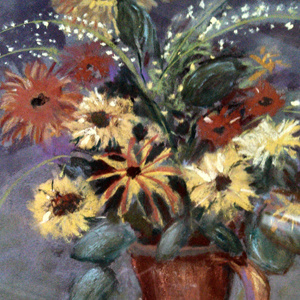 KC Caldwell
KC Caldwell is a pastel artist from Morro Bay, California.  She is a founding member and current president of the California Central Coast Pastel Society.  Before discovering soft pastel in 2014, she dabbled with oil painting, drawing, fused glass, collage and mosaic.  She is a past president of Morro Bay Art Association.
KC had another life as an attorney.  Things are much better now.
Sol Nectar
Our musical entertainment for the evening is by local band, Sol Nectar! This San Luis Obispo based neo-soul group "captures a powerful yet gentle sound reminiscent of Amy Winehouse and Erykah Badu." Enjoy their soulful sounds in front of our shop from 7-9pm.
Art After Dark is a free monthly event in downtown San Luis Obispo, California. On the first Friday of every month, local shops keep their doors open late, from 6pm-9pm, to support the arts by featuring a local artist. HumanKind Fair Trade participates every month with live music and refreshments in addition to the local artist. More information and listings of all participating venues can be found at Arts Obispo.