When my kids were little, we had a special May Day tradition of filling a paper cone with flowers from our garden, hanging the little baskets on neighbors' doors, then quietly tiptoeing away, stifling giggles. The tradition says that if you get caught, you must give the recipient a kiss. We always made it away without kisses!
Where did this humble tradition come from? 
May Day has been celebrated as a rite of spring for centuries. Perhaps you have seen illustrations of Victorian children dancing around a maypole, but this tradition goes back to Roman times and is still practiced today in many countries.  This CBS Morning Show episode gives a very brief overview of this delightful tradition. In my case, when I was young, my mother organized our May Day deliveries and so a family tradition was born.
There are many cultural variations in the celebration of May Day.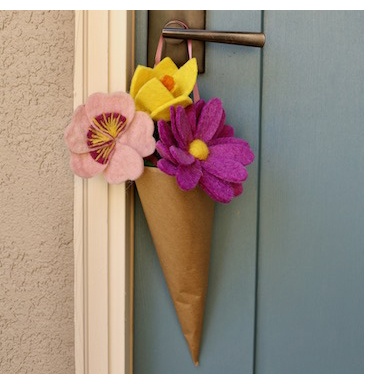 In the Czech Republic, May Day is traditionally considered a holiday of love, and May as a month of love. On May 1, couples in love kiss under a blooming tree. What a wonderful idea!
If you have some French heritage, you may enjoy a tradition harking from 1561 when King Charles IX of France received a lily of the valley as a lucky charm. He decided to offer a lily of the valley each year to the ladies of the court. At the beginning of the 20th century, it became customary to give a sprig of lily of the valley on May Day—and the government permits them to be sold tax-free on that single day!
In Latin America, and many places around the world, May Day is a celebration of workers rights.  But here's a special twist—for the last 60 years the citizens of Otumba, Mexico have celebrated donkeys' rights! With races, rides, costumes and even a polo match, locals in the Mexican town honor donkeys on May 1st, and thousands turn out to enjoy venerating the protection and conservation of these hard-working animals.
Start your own May Day traditions.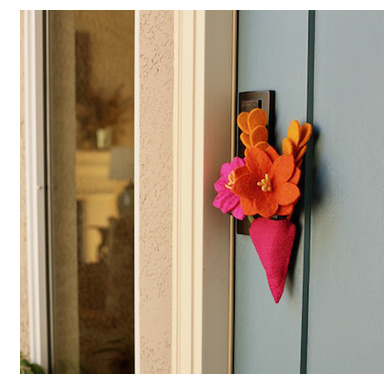 At Humankind, we have a charming and long-lasting keepsake for secret gifting on May Day. Our Mini Felt Cone Bouquets are filled with cheerful felt flowers and foliage and come with a hanging loop through which you could string a ribbon.  For those who want to DIY, May Day baskets are fun and easy to make.  Gather your own flowers, make a paper cone, and punch a couple of holes for a ribbon hanger.
By gifting a May Day bouquet, you will be spreading joy and friendship and have the satisfaction of carrying on a beautiful tradition.
We at HumanKind are happy to celebrate May Day in its many iterations. We celebrate workers' rights daily as a member of the Fair Trade Federation, dedicated to supporting fair wages, worker safety and empowerment.  We celebrate traditions from around the world with seasonal crafts, from handmade felt flowers, to quilled paper butterflies. We believe that connecting to traditions around the world and celebrating our own traditions, whether new or old, strengthens families and friendships. We hope you will be inspired to celebrate May Day with small acts of beauty and kindness.