How does our artisan partner JOYN source the leather and vegan leather for their bags?
[Click here to read the introductory post of this series before diving into this specific product line.]
JOYN has two lines of bags--one with leather and the other with vegan leather. JOYN leather comes from New Delhi, India, where they partner with Suneli, a passionate business woman working in the heart of a slum community to provide opportunities to those who would not otherwise have access to learning the valuable skill of leatherworking. Suneli's cooperative is the only group JOYN works with, so you know exactly where your leather is coming from, every time.
This cooperative sources their leather directly with a family-owned partner who specializes in the leather surplus market. This means that JOYN is able to intercept and repurpose leather that giant fashion companies have over-ordered before it reaches the landfill. This allows JOYN to limit their environmental footprint by not adding to the waste and unethical practices plaguing the fashion industry while still sourcing high grade, quality leather.
Meet JOYN Leather Cutter Mohammad Masson!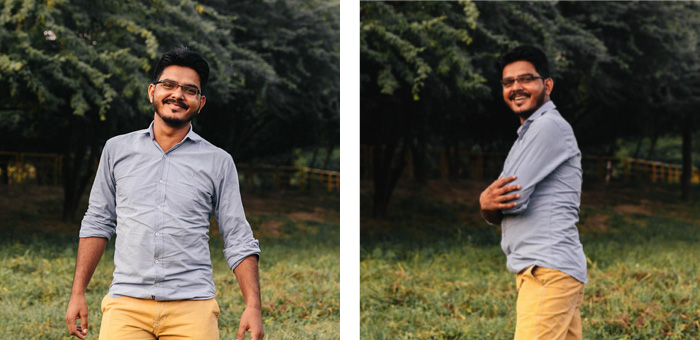 According to JOYN's website, "Masson is simply happy and content. He is married to a wonderful wife and has a lovely son. He has become our master leather cutter, a difficult and highly skilled job. Masson takes his job very seriously and he loves his work, putting his whole heart into what he does each day. He is one of our top quality consultants on all leather and understands fully how to utilize each skin and not waste.  He has been working with us for 5 years and remains hard working, positive, loyal and diligent." (Story sourced from JOYN's Meet the Makers page.)
At HumanKind, we also carry JOYN's vegan leather purses, wristlet wallets, and totes. We know that many people are committed to eliminating all animal products from their lives for a variety of reasons. The vegan bags from JOYN use vegan leather as an accent material alongside traditional Indian block-printed cotton fabric. The vegan leather adds style and durability to these bags, while still maintaining an animal-free product. And the result is a beautiful, useful, durable bag!