Nearly 10 years after founding HumanKind Fair Trade, Elizabeth Aebischer has resigned from the Board of Directors, effective this September, as the nonprofit retail store grows.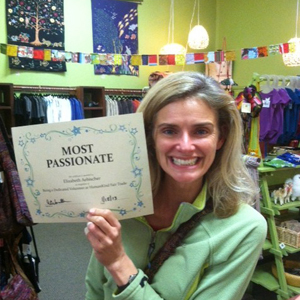 The Board accepted Aebischer's letter of resignation this summer, citing her desire to balance a full-time job as a teacher at CL Smith Elementary with her family life.
"I can't tell you what a gift it has been to serve with this skilled, dedicated, compassionate group of people," Aebischer stated in her letter to the Board. "I have learned so much from (the Board members) about risk-taking, problem-solving, integrity, and respecting the dignity of humanity."
Today, under strong leadership and with the help of a 20-person volunteer sales team, HumanKind Fair Trade continues to grow and meet its mission to provide income to artisans and farmers in the developing world.
HumanKind Fair Trade began as an idea that over time evolved into a unique way to change the world. In 2004, Aebischer organized an alternative holiday fair trade gift market at her church. This annual event was wildly popular, and Aebischer soon realized there was an untapped market in San Luis Obispo. She quickly combined her love for unique gift items with her idea that kindness can extend beyond a single community.

Aebischer recruited friends to form a nonprofit corporation in 2007 with the goal of opening a fair-trade store in the heart SLO. After a fundraising campaign, the Board opened the store on July 1, 2009.

As the global financial crisis began to unfold in 2008, the Board wrestled with fears about starting a retail business. But the Board forged ahead with the help of dozens of volunteers. In 2015, the store even expanded its square footage by taking over the space next door in a substantial remodel.

"We owe so much to Elizabeth for her vision, her kindness and her strength of character," said Laura Mullen, HumanKind Fair Trade Board President. "We hope to establish an emeritus board member status, so that she may still be involved in some capacity."