You may have seen news reports that the Marie Kondo tidying up craze has at time overwhelmed thrift stores with donations. But I recently reached out to a few of our local non-profit thrift stores and each manager told me "please pass on that we value our donors and we want their donations!"
Besides being a convenient and economical repository for our unwanted items, thrift stores are a vital cog in the wheel of the sustainability movement. They interrupt the cycle of "buy and dispose" and put items back into economic circulation. The donated items sell and the proceeds go to a wide variety of worthy social causes. The items are sold at far less than new value and allow shoppers to make their dollars go much further. Items serve a longer useful life and reduce waste in landfills.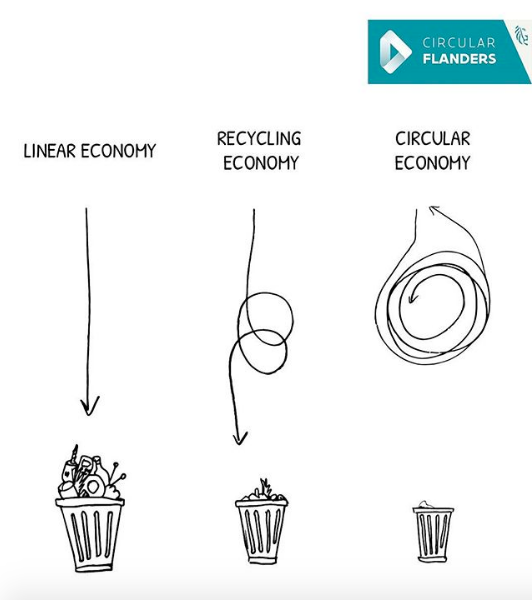 I contacted the managers of 3 local non-profit thrift stores and with great enthusiasm they shared their "best practices" for donating to thrift shops. They all hope that you will add donating and shopping at thrift stores to your life.
Jen at Fred and Betty's Thrift Store in San Luis Obispo
(Supporting the SLO Classical Academy)
Jen says while they are grateful for all donations, lightly used and freshly laundered items are easiest to sell. The staff at Fred and Betty's appreciates it when furniture items are brought in clean and unbroken. Giving things a wipe down before bringing them in really saves them time. Her tip to shoppers is to always wash clothing and household items after taking them home.

Jenann at Hope Chest Thrift Store in San Luis Obispo
(Supporting Wilshire Hospice programs)
Jenann energetically says that Hope Chest "can't live without our donors" and the 80 volunteers who work there. Though they sometimes have to turn away donations, they never want to discourage giving. It's just that occaisionally they are over their limit or have too many similar items in stock. She also wants to get out the word that they pass on many items to other non-profits, like Prado Day Center and Woods Humane Society. Jenann makes the great point that all items come from our local community and go back into our local community.
Summer at Achievement House Thrift Store in Arroyo Grande
(Providing vocational training to disabled adults)
Summer told me that Achievement House Thrift Stores are in eight of our County communities and they are so grateful for their donors and patrons. Her first tip for shoppers is to be patient with the staff, as they are learning the ropes. Secondly, she suggests shoppers not try to haggle the price, after all, the items are priced well below new and the training programs really need the funds.

By dropping by a few of our local thrift stores, I learned a few things too. They are a great place to buy party supplies and favors, like Hawaiian leis for 10 cents each. I found lots of old silver and crystal that could be fabulous centerpieces for a wedding. Need some party decor for those summer picnics? Skip the Dollar Store and head to your local thrift store. Thrifting is fun, responsible and helps your community. Shift to Thrift!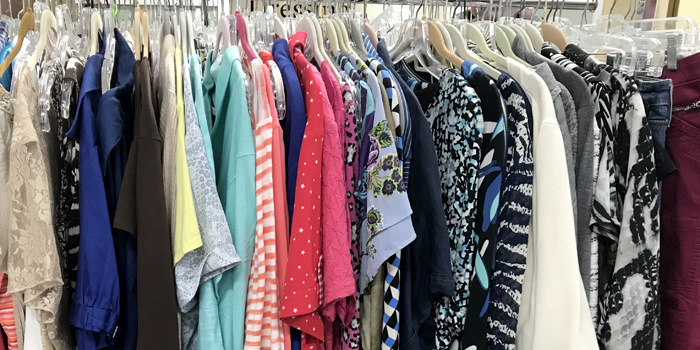 A selection of clothing at Hope Chest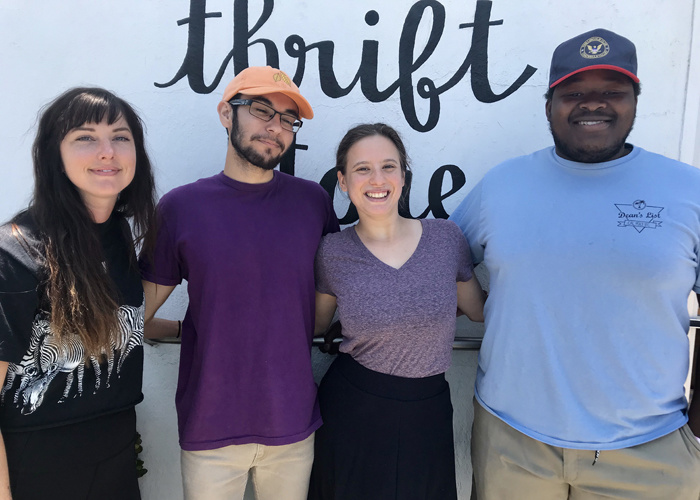 The Staff at Fred & Betty's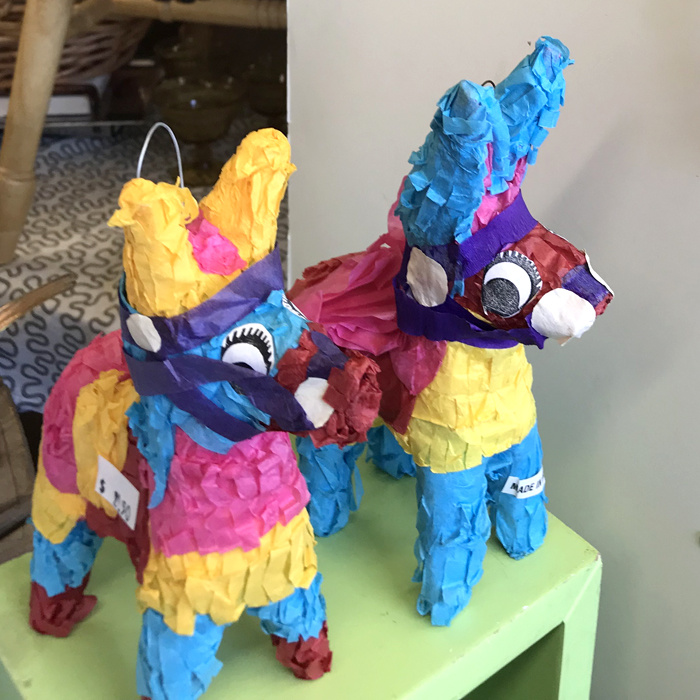 Find party supplies at Fred & Betty's
Scottie, a volunteer at Wilshire Hospice's Hope Chest