How does our artisan partner Matr Boomie source the leather for their journals?
Click here to read the introductory post of this series before diving into this specific product line.
Matr Boomie's leather items are made in a vegetarian region of Rajasthan, India, where the cultural art of leather crafting and tooling is inherited through the generations. Cows are revered in Rajasthan and the hides are obtained only after an animal dies of old age or natural causes. According to Matr Boomie, their leather is tanned using the vegetable tanning method that "protects the environment and tannery workers from toxic chemicals. Artisans then use water-based dyes or oils to color the leather. With a set of hand tools, each artisan applies love and skill to cutting, stitching, embossing and embroidering our leather journals, bags, and accessories."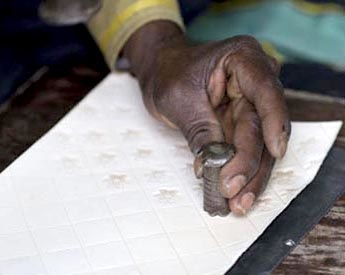 All of Matr Boomie's leather items are labelled "cruelty free," "sustainable leather," and "compostable" since no animals are killed for their hides and the vegetable tanning method protects artisans and the environment from the harmful chemicals involved in the chrome tanning process.
We got in touch with Matr Boomie Founder and CEO Manish Gupta to inquire further about their choice of tanning process. Gupta explained that when looking at leather tanning in India it is important to consider not just the two tanning processes in the abstract, but rather how tanneries actually implement them. "Though there may be ways to safely eliminate chromium waste in larger industry setups," he says, "most small tanneries in India would tend to dump their chromium waste in regular drains. It is also a well known fact that worker health is an issue in chromium tanneries…[which may again] be related to poor worker safety processes or lack of right kind of gear required." Since Indian tanneries are often small operations without large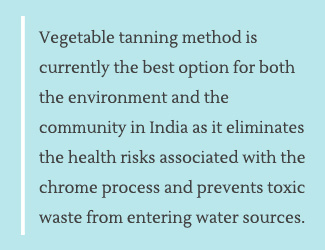 budgets to purchase all the required safety and waste disposal equipment, the vegetable tanning method is currently the best option for both the environment and the community in India as it eliminates the health risks associated with the chrome process for tannery workers and prevents toxic waste from entering water sources—which also protects the community at large!
Matr Boomie's leather goods also have a positive social impact on their artisan partners, most of whom belong to a social class called Chamar which excludes them from other classes of society and severely limits their resources. "About 30 families formed a development group to empower artisans, beginning with advanced tooling techniques. As a result, the caste stigma is gradually diminishing as artisans make economic and social progress. Housing, sanitation, and health care access have improved, and children are attending school. Through access to trade, the village was able to realize its dream of opening its first school for girls," according to Matr Boomie.