Are you overwhelmed by the number of logos to look for when you are trying to shop fair trade? Yeah, it's tough. It's not just you. With so many certifying organizations, each with their own mark, it can be a lot to sort through when all you want is to make good choices with your money. Here are the basics of the most common fair trade logos you will see.
Fairtrade International

This label started in Europe and now is an international organization. Their strengths are in ensuring producer participation in governance and decision making, which helps assure that prices paid to producers are fair. Each producer undergoes monitoring and audits by a third party organization called FLOCERT.
- Find the label on many foods such as coffee, tea, chocolate and sugar and some textile/apparel items.
- Brands that use this certifier: Ben and Jerry's, KIND, Divine Chocolate, and Conscious Step.
Fair Trade USA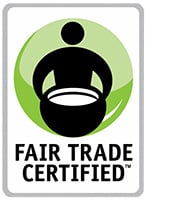 This label used to be part of Fairtrade International until it split off in 1998 and formed its own standards. The cause of the split was primarily disagreements about whether to certify products from large farms and factories. Fairtrade International chose to focus on small-scale producers, and Fair Trade USA chose to expand to working with large estates with hired workers. Fair Trade USA has received criticism from other fair trade organizations about their more lax regulations. Our take on it: products with this label are better than mainstream non-fair trade production, but other certifiers have higher standards and are more dependable.
- Find the label on produce, seafood, coffee, snacks, textiles, apparel, flowers, and beauty items
- Major brands that use this certifier include: Patagonia, PACT Apparel, Whole Foods, West Elm
Fair for Life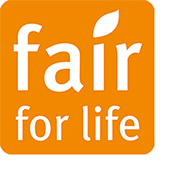 Fair For Life has high standards for certification and requirements to use the label. Their requirements include strong environmental standards, long-term commitments from buyers, and guaranteed above-market prices for producers. Fair for Life works best for small-scale producers as they do not have great monitoring for large scale production. As opposed to other certifiers that only certify one part of the process of production, Fair for Life can certify the entire production process ensuring that fair trade is practiced from start to finish.
- Find the label on foods such as coffee and chocolate, as well as items like soaps and shea butter.
- Brands that use this certifier include Theo Chocolate, Dr. Bronner's, and Allafia
World Fair Trade Organization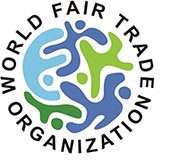 The WFTO is a membership organization, not a certifier. All members are screened according to WFTO fair trade principles and are considered to be "verified" fair trade if they are allowed membership. As a global organization, members include small-scale producers as well as larger fair trade brands working directly with the producers. Usage of the "WFTO Guaranteed" logo requires ongoing monitoring and evaluation to ensure standards are upheld.
- Find the label most often on handcrafted goods
- Many of the producers HumanKind purchases from are members including Maggie's Organics, Bombolulu Workshops, Global Mamas, Prokritee, and Mai Vietnamese Handicrafts.
Fair Trade Federation
The FTF is a membership organization for North American based companies committed to fair trade, both wholesale companies working directly with producers and retailers selling fair trade items. (Of course HumanKind is a member!) Each member is screened according to FTF fair trade principles and must renew membership each year. 
- Find the label most often on handcrafted goods and some foods
- 78% of HumanKind's suppliers are members of the FTF.
- The largest brands that are members include Ten Thousand Villages, SERRV, Mata Traders, Matr Boomie, and Global Goods Partners.
Want to learn more?
Here are some resources from the Fair World Project:
Reference Guide to Fair Trade and Labor Justice Programs - A document that breaks down each organization and grades them on their standards and requirements.
International Guide to Fair Trade Labels - 124 pages of information about all of the certifiers (the ones we listed and more) with descriptions of each organizations' strengths, weaknesses, fair trade standards, and processes for monitoring.